Explore Downtown Mesa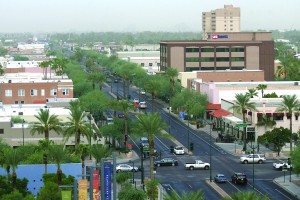 Located in Mesa's original square mile, downtown Mesa is 'A Square Mile of Unique Style'. Main Street offers dozens of independently owned one-of-a-kind shops, boutiques and services.
Downtown Mesa has an unsurpassed collection of history, art, theater and music with three major museums (Arizona Museum of Natural History, Arizona Museum for Youth and Mesa Contemporary Arts) offering renowned exhibits, Mesa Arts Center which is considered one of the best art centers and is the largest art center in Arizona and a 39 piece public sculpture program. In addition, the Mesa Amphitheater host music and festival events and the historic Nile Theater are in downtown Mesa as well.
The quaint downtown colonnades, unique shopping, sidewalk cafes and friendly atmosphere make visiting downtown Mesa a must.
In addition to shopping, dining, and art, Downtown Mesa puts on monthly events. On the first Friday of each month, check out Motorcycles on Main; second Fridays they host an art fair. Check their website for more news and events!
Comments